We're Hiring!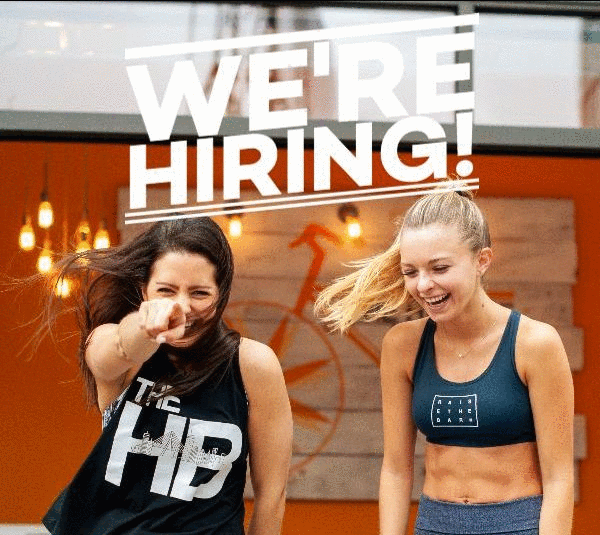 Attention, all fitness-enthused creatives:
We are hiring a Social Media & Retail Coordinator!
Do you have a serious passion for health and wellness and the Boston fitness scene? Are you creative-brained, visually in tune, a trendsetter, and self-motivated? Do you LOVE organization and order?!
Read the below job description carefully, and follow the instructions to apply if interested! Know someone who'd be a great fit? Pass it along! The HB Social Media & Retail Coordinator
Position:
Social Media & Retail Coordinator
Location:
The Handle Bar South Boston, Fenway, Harvard Square, North Station (can work remotely for 4-5 hrs/week)
Reports to:
Director of Brand & Content
Duties & Responsibilities:
Social
Keeps up with organization and filing of all existing content — photos, videos, graphics, logos through Dropbox

Acts as production assistant onsite at photo/video shoots, capturing BTS

Maintains blog: Create & post blog content that supports the content calendar

Assists in new content creation: in-studio photos, community-focused content

Performs content & strategy auditing: produce insights that measure activity & engagement of past content and assist in forecasting best content streams to pursue

Provides support to brand team at events

Curates content to repost; e

ngages on social media with other followers and on the "Explore page," as well as through relevant hashtags
Retail
Leads retail design/conception, production and distribution for The Handle Bar studios

Forecasts trends in retail design and product style and brings these findings to The HB merchandise

Monitors and analyzes merchandise sales and reports
Overall
Upholds a strong presence at all HB studios: rides regularly; builds rapport with staff
Expectations:
Estimated 15 hours/week

Working presence in studio(s) 5-10 hours/week
Competencies
Detail-oriented

Self-sufficient

Creative skills

Passion for health/fitness

Interest in fashion
Education/Experience
Graphic design experience required

Retail/fashion experience preferred

Photo/video production & editing experience preferred

Social media creation & strategy experience preferred

Copywriting/content writing experience preferred
Compensation
Hourly base rate + commission

Unlimited membership to all HB studios
Submit resume, brief summary of your qualifications and interest in the position, and samples/portfolio of any past design work.
Interested applicants should forward their application to:
Sarah Coppinger
Director of Brand & Content
sarah@staging.handlebarcycling.com
Application deadline: Friday, August 2, 2019