Introducing The HB Staff: SOUTHIE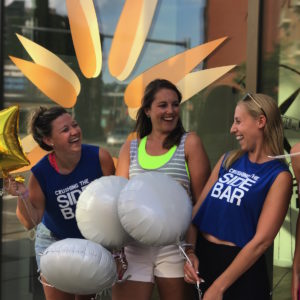 Since we opened back in 2013, our team has grown by the DOZENS. Every person who checks you in at the desk, helps you clip in for the first time, or knows your shoe size by heart has an immense passion for The HB and is an integral part of The HB community. We love each and every one of them, and we know you do too! We're giving you a closer look at each of these HB power players, so that the next time you see them, you know which nickname to call out, what to congratulate them on, or where to invite them for a drink.
To kick off this series, we begin where it all started: SOUTHIE. We've got a team that just keeps GROWING, so be sure to tune back in for updates to this series!
Here are our first three rockstars: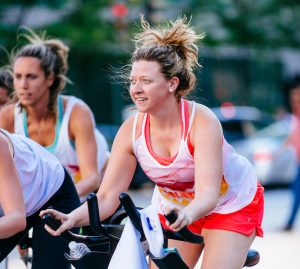 Alexa Kuzmich
Describe yourself: Strong, caring – and I like to think I'm funny
When can we find you behind the desk? Wednesday and Friday mornings
Where did you grow up? Southie
What accomplishments are you most proud of? I was the first person in my immediate family to graduate from college.  It sounds like such a small thing these days but to me, getting that degree was so much more than what was normal and expected.  There was never a doubt that I'd get into college, or that I'd go – but there were certainly times when it felt financially impossible to make it to the end. I might be paying that little paper off for the rest of my life – but I'm ok with it, because I did it!
Favorite neighborhood spot and why? Tom English's – no question.  I love all the new spots on Broadway, but there something about a regular neighborhood bar that is perfect. And any place that will let me get a pizza delivered is A-OK in my book.
What is something many people do not know about you? I'm left-handed. I don't think anything of it, but people always seem very surprised when they realize it
What is your go to karaoke song? Shoop (Salt 'n Peppa) – I know almost every word to the song.  You can pick your jaw up off the floor now.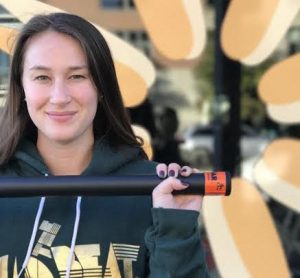 Chelsea Caracciolo
Describe yourself: Driven, Passionate, Caring
When can we find you behind the desk? Thursday and Friday evenings
Where did you grow up? I grew up in New York on Long Island in the town of Garden City to be exact
What are your hobbies outside the studio? Some of my hobbies are running, drinking good wine and watching documentaries about serial killers.
If you could trade lives with one person for an entire day who would it be and why? It would definitely be Miley Cyrus because she is wild and free and doesn't care about what anyone thinks!
What would your walkout song at Fenway Park be? HeadBand by B.o.B and 2 Chainz (specifically 0:49 seconds into the song and on).
What is the last thing you googled? The Moana song "How Far I'll Go" because Rory, an 18-month-old that I babysit lovesssss it (shout out to HB rider Trish Sutton for the cutest baby ever!).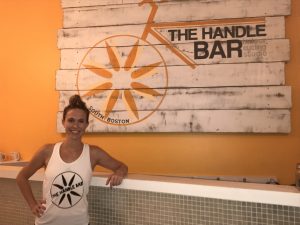 Molly Burke
Describe yourself: Energetic, Motivated and Passionate
When can we find you behind the desk? Wednesday evenings & Thursday mornings
Where did you grow up? I was born and raised in West Hartford, CT
Who inspires you and why? One person who inspires me is my mom. She is one of the most driven, strong and patient people I know and we are incredibly close.
What is something many people do not know about you? I work full time at an ed-tech start-up in Fort Point. I am currently training for my fifth half marathon coming up in November in Philly! I am the youngest of four in my family. I love dancing and am almost always the first person on the dance floor at weddings or any event where there is a dance floor.
What is your go to karaoke song? My go to karaoke song is always either "Wake Me Up Before you Go-Go" by Wham! or "Rapper's Delight" by Sugarhill Gang (yes, it is a 14 minute rap song and I know almost every word).
What is your favorite quote? "Our greatest glory is not in never falling, but in rising every time we fall." –Confucius (my dad used to say this quote a lot to us growing up)